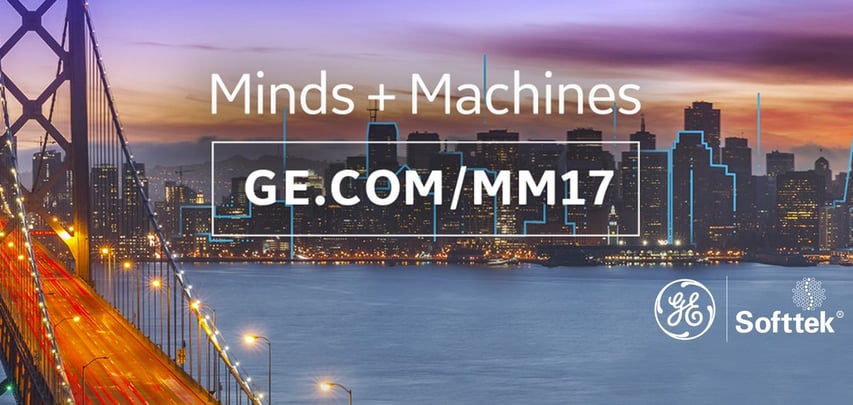 GE Digital and Softtek converge at the Industry Internet event of year.
The Internet of Things (IoT) is transforming a wide range of industries and bringing increasingly intelligent, connected devices to market. Examples include smart thermostats that ensure energy efficiency and home security, software-controlled automobiles that can be remotely serviced and upgraded and sensors that monitor oil-drilling equipment to prevent breakdowns.
A recent Industry 4.0 survey found that industrial companies are planning to commit approximately $907 billion annually to their IIoT initiatives. Those companies expect $421 billion in cost reductions and $493 billion in increased revenues annually from the implementation of IIoT, with 55% expecting a payback within two years.*
Softtek has been working with General Electric for more than 20 years to support customers and drive business outcomes with more efficiency and productivity. As a Global Strategic Partner of GE Digital, Softtek has created a comprehensive Industrial Internet service offering that helps clients transform their industrial processes and systems into digital assets that generate unparalleled business impact.
I am very excited to announce that Softtek will participate for the third year in a row in GE Minds+Machines in San Francisco, October 25-26, 2017. Minds + Machines attendees will learn how to start their own digital transformation journey; hear about GE's latest technology solutions, including Predix; and discover how Softtek can help accelerate your IIoT innovation.
Join us at GE M+M 2017 for two amazing days of featured keynotes, insightful forums, and hands-on demos that will empower you to:
Learn
How to make IIoT real for your business with proven technology solutions, like Asset Performance Management and Field Service Management
Reimagine
Your business model by activating the digital thread along your entire value chain

Explore
How harnessing the power of data and analytics will help optimize your operations
Discover
How our digital foundries can accelerate customer, partner, and developer adoption of industrial applications and solutions.
Experience
The future of cutting edge technologies through hands-on demos, breakout sessions, training, and certification courses.
Hear GE and Softtek Leadership
On the state of the Industrial Internet and what we see for the future of industry.
Join Softtek at Minds + Machines 2017, the premier Industrial Internet event, and let us show you how to make IIoT real for your business. Reserve your spot here.