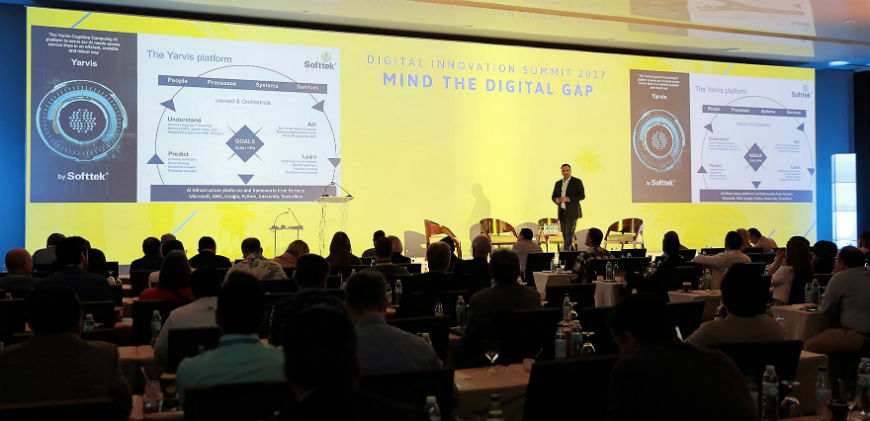 Last month Softtek held its 2017 Softtek's Digital Innovation Summit in Cancun, Mexico, at the Secrets The Vine resort hotel.
In addition to the paradise that is Cancun, we also boasted a jam-packed lineup for nearly 200 attendees, which included our clients, our executives and our partners, to learn from and network with one another.
For those of you who couldn't attend, here's a recap of the event.
Mind The Digital Gap: Day 1
Alex Camino: Mind The Digital Gap
As event host, Softtek CMO Alex Camino welcomed attendees to Cancun and to the Summit with a message that framed the conference and will frame the challenges that businesses will face for the foreseeable future: Minding the Digital Gap.
Where solving a technological problem is concerned – and where bridging a digital gap is concerned – there's always a chance to find a solution.
Alex went on to address some of the digital gaps businesses face, including
Growth expectation,
The approach to customers
Business processes, and
Technology management.
Cynthia Batty: ISG
Next up was Cynthia Batty, Chief Knowledge Officer at ISG, a consulting firm that helps clients develop their sourcing governance and service management design.
Cynthia briefed attendees about what they could expect from the breakout sessions ISG experts would be leading the following day. (A big thank-you to ISG, who was Softtek's official Content Partner this year!)
Aaron Frank: Living In An Exponential World
The spotlight was on Aaron Frank of Singularity University for a keynote addressing the pace of innovation and the corresponding pace of change. Take a peek at a clip from his presentation:
Blanca Trevino: Softtek President & CEO


Softtek CEO Blanca Trevino capped the first day of our Digital Innovation Summit by explaining that this is a year both for celebration of Softtek's 35th year of operations and a year for gratitude.
Blanca explained that it was 20 years ago that Softtek pioneered the nearshore concept; that it was 20 years ago that we entered the Argentinian market; and more than 20 years ago that Softtek began supporting global brands including in the Fortune Global 500.
As exciting as the past 35 years have been, Blanca is more excited about the next 35, which will bring innovations we never could have imagined.
The current digital transformation and technological innovations to come will be accompanied by digital gaps. The diverse industries represented in the Summit audience will all face the challenges of bridging digital gaps and taking advantage of the opportunities they present.
Mind The Digital Gap: Day 2
Alex Camino: Bridging the Digital Gap
Alex Camino kicked off day two with an update on Softtek itself, including an overview of how organizations can address their digital gap by having a digitally minded operational core. Softtek helps companies build that operational core in three main ways:
IT transformation,
Business transformation, and
Digital product development.
But it is Softtek's culture that differentiates our company. Softtek's purpose is to generate value through technology. Softtek's essence is its passion for transcendence, its passion for leaving a mark.
Softtek's four core beliefs are:
Given the right environment, talented and self-determined people create amazing things,
We build trust by relentlessly doing what we say,
Collaboration is the only way to fulfill our purpose, and
By being agile and mastering technology, we stay one step ahead.
Another aspect of Softtek culture is the Softtekiada, an annual sports competition among more than 500 Softtek employees from 12 different countries.
Softtek employs more than 11,700 people, 68% of whom are Millennials, 28% are Gen Xers, and 4% are Boomers.
Working with Partners to Address Major Financial Institution's Unique Challenges & Strategies
One of the world's most important financial institutions is driving the strategic digitization of its processes and operations to ensure the organization continues to improve the lives of the citizens of Latin America and the Caribbean.
A few of the company's many accomplishments include simplifying customs procedures to enhance international trade in the Mesoamerica sub region, resulting in wait times at borders for truckers being reduced from five hours to five minutes.
Closing the Digital IT Operations Gap at a Major Airline
One of the key takeaways from this panel was a digital gap issue many companies experience.
Panelists from a major airline organization at the Summit discussed how it often takes two to three years of a development cycle to upgrade legacy systems. The pace of change is so rapid these days that the technology you've just upgraded could very well be obsolete by the completion of the upgrade.
Many companies are questioning how to accommodate and integrate the pace of innovation into those development cycles, so it's important to form a strategic partnership that can help support the ongoing changes.
The panelists also discussed two other main takeaways regarding their partner relationship: the great value that an advisor brought to their partner selection process and the relevance of having cultural compatibility with the selected provider.
Catering to the Digitally Empowered Customer
Moderated by Softtek Retail Specialist JJ Kallergis, this panel discussion featured CIOs and IT business leaders from InterContinental Hotels Group, Brinker International (Chili's Restaurants), Macy's and Staples.
Some of the observations from panelists included:
Disrupters of any given industry may not be obvious. For example, companies including Open Table, Uber and Lyft have been disruptors in the hospitality industry.
Just as consumer behavior is shaped by technological expectations, you can change consumer behavior and expectations by meeting unknown needs.
One way a traditional retailer can compete with industry disruptors like Amazon is to turn their stores into distribution centers that enable one or same-day delivery.
Traditional retailers have a difficult time changing quickly. Retailers need to take customers' complexity, simplify it, and integrate it with their operations very quickly and at very little cost. This is where voice recognition technologies and artificial intelligence will come into play.
Complexity is one of the biggest obstacles to acting quickly.
Rajeev Tyagi: Explore The Opportunity Of AI
Rajeev Tyagi, COO Softtek USA & Canada, kicked his session off with some research on artificial intelligence:
By 2056, artificial intelligence will reach the sophistication of the human brain.
Oxford University says that 47% of all jobs will be highly susceptible to automation of some kind, with AI being the driving force.
He quoted Newsweek's Kevin Maney: The last time we've come close the type of change that the AI revolution will bring was in the late 1800s to the 1920s, when mass electrification, telecommunications, the automobile and the airplane gave rise to the industrial revolution.
One early example of the AI revolution Rajeev mentioned was the Amazon Go employee-less store concept that combines computer vision, deep learning, sensors, Internet of Things technology, big data and mobile to reshape the grocery shopping experience.
Mind The Digital Gap: A Latin American Perspective
This panel discussion featured:
Frederico Ferreres, SVP Marketing Strategy & Innovation, Softtek - Moderator
Jorge Solis, CIO, Latin America IT, Amcor
Erik Mejia, CIO, Interacciones
Felipe Villegas, CIO, Grupo IAMSA
Some observations panelists made on the digital gaps in the Latin American market include:
A lot of companies are on the verge of upgrading their legacy systems
Consumer expectations are changing regarding technology
That process will force them to deliver value to customers in a completely different way from what they're used to
Internal change management can be a challenge across regions
Breakout Sessions Moderated By ISG Experts
After lunch, our guests chose one of four breakout sessions lead by ISG Experts.
Stanton Jones: IT Transformation Plans Through 2020
Stanton detailed ISG research on how companies are planning their IT transformations. Some aspects of that transformation include:
Applications are moving off-site
Cloud adoption continues to grow
Services are transforming as a result
Managed services in a hybrid environment will continue to grow
Automation is driving new types of managed services
The current focus is on using technologies to solve information, data and research problems
Mark Davison: Impact Of Digital Labor & Cognitive Technologies
Mark pointed out that we are at the pivotal point of exponential technological change. Digital and cognitive technologies have the potential to rapidly transform the back office, just as consumer products and services are being transformed.
A July 2016 McKinsey report claims that 70% of occupations could have 30% of their constituent activities automated over the next ten years.
Cynthia Batty: Digital Governance
Cynthia lead discussions about the relationships between businesses and technology service providers within the context of digital governance.
She outlined the three types of business/vendor relationships:
Packaged services
Managed services
Agile development/robotic automation
The key takeaway from Cynthia's session is that as you move from packaged services to agile development relationships, provider engagement increases. As a result, digital governance must become more flexible to allow that relationship to flourish.
Bill McNee: Key Trends In Digital Business
Bill outlined five stages of the state of digital business engagement:
No digital footprint
Experimental/Learning
Committed/In process
Engaged/Ongoing
Established/Improving
He made the point that "digital" is beyond the inflection point as a strategic priority, and that there is a growing recognition that "digital" business is just the future of business.
The key insight from Bill's session is that it is now a given that digital transformation of businesses is necessary, but we're beginning to grapple with just how hard that transformation is to implement.
Mind The Digital Gap: Day 3
ISG Research Sessions Report
Day three opened with the panel of ISG experts reporting their findings for the entire audience.
Leadership At The Digital Gap
This panel discussion featured:
Camila Casale, Head of Marketing, Softtek USA & Canada - Moderator
Enna Zarate, CIO DHL USA
Noni Gonzalez, VP Global Technology Systems, IHG
Ileana Rivera, Sr. Director CISCO
What Does It Take To Lead In This Environment?
The panel discussion centered around the fact that leaders in the digital age need to be fearless and unafraid, willing to take risks, and willing to fail.
A leader has to be hungry for innovation, agile, and able to create a fearless culture; being very positive about what's possible instead of focusing on limitations.
Leaders should be passionate about people and all of the generations that you have to work with. Strong leaders are bold day-by-day and consider letting go of old technologies or bringing in talent from outside the organization when it makes sense.
What Skills, Knowledge Or Technical Expertise Are Needed?
In addition to fostering all the skills within the organization, leaders must foster creativity and the pervasive desire to really make life better. It's crucial to have a glass that is always half full and continue to see the things that are possible.
Leaders should think in terms of capabilities, not technologies and continue to evolve into what the capabilities are. The most important skill is the ability to let go of tired traditions and be willing to expose all departments to the customer.
If you look at Amazon, all they did was expose everyone else's supply chain. They simply opened up companies to the customer. The biggest asset we can bring to an IT department is people who think that way.
Christopher Wilson: US-Mexico Relations: Where Do We Stand Today?
Marcos Jimenez, CEO Softtek USA & Canada posed questions to Christopher Wilson, Mexico Institute Woodrow Wilson Center, during this session.
Christopher held court on the state of US-Mexico relations. A small slice of his insights are included in this video:
Beni Lopez: The Industrial Internet Of Things
Beni Lopez, Softtek's Chief Globalization Officer, headlined the final session of the Summit. He set the stage by sharing some insights about the Internet of Things from Gartner.
Beni then outlined Softtek's vision for the Industrial Internet of Things (IIoT) to generate incremental and exponential value for clients by transforming how that value is achieved through:
Business goals
Improving operations
Optimizing assets
Enhancing resources
Generating revenue, and
Solutions management
Beni discussed an IIoT example of Softtek's Asset Performance Management work with GE Water & Process.
Browse the photo gallery of Softtek's 2017 Digital Innovations Summit at our Pinterest Board. Top of Form