What is Nearshore?
Nearshore is a form of outsourcing that refers to services delivered from an adjacent or nearby location.
The Nearshore concept started to gain real momentum in 2002 as the Mexican government began marketing the idea within the United States. As a result, the world now defines Nearshore as delegating outsourcing business processes and technology support to companies in a nearby country—primarily US companies partnering with Canadian and Mexican companies and Western European countries partnering with Eastern European Countries.
Why, Global Nearshore?
Intensified by the pandemic, the enterprise continues to expedite intelligent enterprise fitness. As a result, the demand for specialized IT, software development, and analytics technology partners will continue to rise. For this reason, technology and business leaders will continue to reevaluate their technology partnerships and look for future-fit partners that can help organizations quickly scale.
Fun Facts
Softtek coined the term Nearshore in 1997, the year we began working with our first US clients outside of the domestic Mexican market. As an alternative to "offshore," "Nearshore" quickly emerged as a popular right-fit model for partnering with a third party to manage IT operations from a remote location at a lower cost without sacrificing quality and has become the underpinning of Softtek's success for 23 years.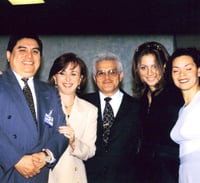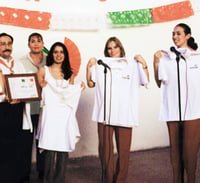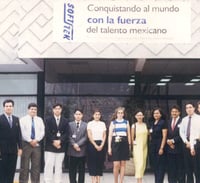 Softtek's Global Nearshore Benefits
The main advantages of Nearshore can be summarized into the following main benefits:
Proximity and time zone alignment
Cultural affinity and ease of doing business
Cost reduction
Higher productivity and faster time to market
US-based product owners and stakeholders
Real-time collaboration when an onsite partnership is not possible
Outstanding talent, with the most robust capabilities, from Mexico + LATAM
Nearshore vs. Offshore
Although Nearshore rates are similar to offshore, the overall cost of Nearshore engagements can be offset by the efficiency gains that working close to the US and in the same time zone can bring to agile teams and software development practices. Read on for an industry perspective on Nearshore.
Perspectives on Nearshore
Blanca Treviño on Effective Crisis Leadership
Nearshore Americas - July 14, 2020
Sourcing Executives Must Warm Up to Shoring in Mexico
HfS Research - Apr 18, 2019
From India to Nearshore: Getting it Right
Nearshore Americas - Dec 18, 2018
From Outsourcing to Outpacing: How SaaS Companies Succeed
HfS Research - Apr 19, 2019
Nearshore and onshore are ever more important in an agile world – which puts Mexican-based firm Softtek in prime position to leverage the latest business trend.
HfS Research, 2019
Softtek is a good candidate for agile-enabled developments, particularly for enterprises that require a higher onshore or Nearshore presence.
ISG Provider Lens, 2019
About Softtek
About Softtek Softtek is a global company and the largest provider of IT services from Latin America. With a broad portfolio of business-transforming products and solutions, Softtek helps Global 2000 organizations evolve their digital capabilities constantly and seamlessly, from ideation and development to execution.